Pioneer Carbon
$6,700.00
Ultra Light 37 LB Carbon Fiber E-Bike
Light Weight: Carbon Frame, Fork and Handlebar
This is the lightest bike you will find with a 500 watt motor and 37 volt 10.5 amp hour battery. The bike is 15-30 pounds lighter than other bikes with the same performance.
Due to the use of carbon fiber in the frame, fork and handlebar, the bike is also extremely rigid.
Thumb Throttle
In addition to the Pedalec control we have added an optional thumb throttle for those who want it. This gives you both types of control, so you do not have to compromise like other bikes.
Carbon Handlebar With Integrated Digital Display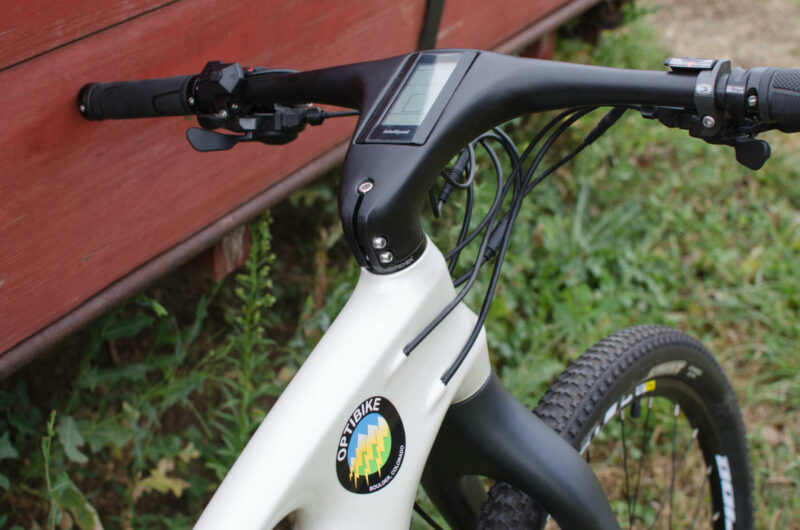 The full carbon handlebar has an integrated digital display. There is an external button to change the 5 power settings.
Standard Bars and Stem Option

The carbon bars are very cool, but many people have asked for the option to customize the fit  of the bike to their riding needs.
We will now offer the option of a standard bar and stem with handlebar mounted LCD display. This will enable you to get the right fit, especially for your riding position.
Sleek Eye Catching Design
The sleek eye catching design of the carbon bike turns heads where ever it goes. There is nothing else like it. Destined to change the way people think about electric bikes.
The Optibike Carbon has the same hill climbing 500 watt mid drive as the Pioneer Allroad. These motors have proven to be very durable with riders completing thousands of miles on them.
There are 5 power levels from 100-500 watts to choose from. Power control is via Pedalec or Throttle.
See Why Phil Loves his Carbon Optibike
Quick Change Integrated Battery
The large 37 volt 10.5 amp-hr Lithium Ion battery is concealed in the down tube of the frame. The key locked cover comes off to allow quick changes and charging  of the battery. The battery is light and weighs 5.5 pounds.
NOTE: In the video, the battery is listed as 7.6 amp hrs. The new bikes will come with the new high capacity 10.5 amp hour battery. The down tube on frame is slightly larger than in these pictures.
The Pioneer Carbon bike comes with high performance Shimano SLX drive train. A full 10 speed rear cassette in rear and dual chain ring front Derailleur. This allows for great versatility for climbing hills.
The bike also has hydraulic disk brakes front and rear and  27.5 inch wheels for low rolling resistance.
45 day Guarantee
Optibike is the only motorized bicycle company to offer a 45 day satisfaction guarantee on its full line of e-bikes.
Ride your Optibike for 45 days. At the end of 45 days, if you do not love what we feel is the best electric bicycle on the market, send it back for a refund, no questions asked.
Warranty
The Pioneer Carbon is covered by a 5 year warranty on the Frame, a 2 year warranty on the Lithium Battery, and a 1 year warranty on the Suspension, Brakes, Electronics, Motor, and Drivetrain and rest of the bike.
Please see the Details page for Terms and Conditions
Range and Speed
Motor Power

Battery Type and Size
Display
Wheels
Brakes
Fork
Drive Train
Power Control
Color
Weight
35-44 Mile Range*, 28 MPH Top Speed*
500 Watts
37 Volt, 10.5 Amp-hour, Lithium-ion
LCD integrated into handlebar
27.5″
Hydraulic Disk Brakes
Carbon Fiber
Shimano SLX 10 Speed Cassette, Dual Front Chain Rings
Pedalec and Throttle, 5 power levels
White
37 LBS
* With pedaling, 170 lb rider on flat ground
Similar Products
100% Financing Available - Free Shipping on Every Bike
Related Products
Greenpath Electric Bikes offers a large selection from many manufacturers. See all our bikes below or select a brand or type that fits your needs.
$2,800.00

In a hurry? This bike can sure hustle and is built to get you through town lightening fast and under great control. Don't even think about grabbing your car keys—it's 5pm, traffic's crazy, you're not getting anywhere and there's no parking anyway. Get on the E3 Dash instead. At 28 miles per hour, with rider assistance, you'll be there before the car. It's got sleek up to date styling, and great parts. Right tool for the job and smooth riding - a perfect urban assault bike. The new edition is chock full of minor upgrades improving an already great experience.

$1,449.00

LIGHTWEIGHT, STYLISH AND ECONOMICAL

$1,699.00

A beautifully designed, purpose built, affordable electric bike well suited to urban riding or commuting.